All current HWH air leveling systems using HWH air solenoid manifolds incorporate air pressure switches in the system. The following diagrams show the two pressure switch arrangements that are used.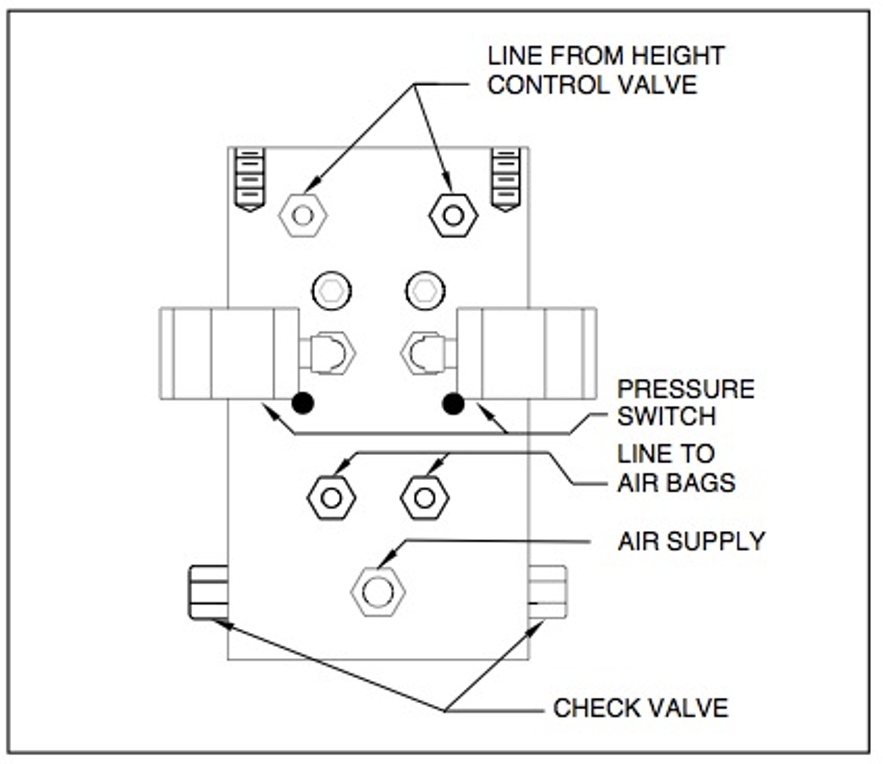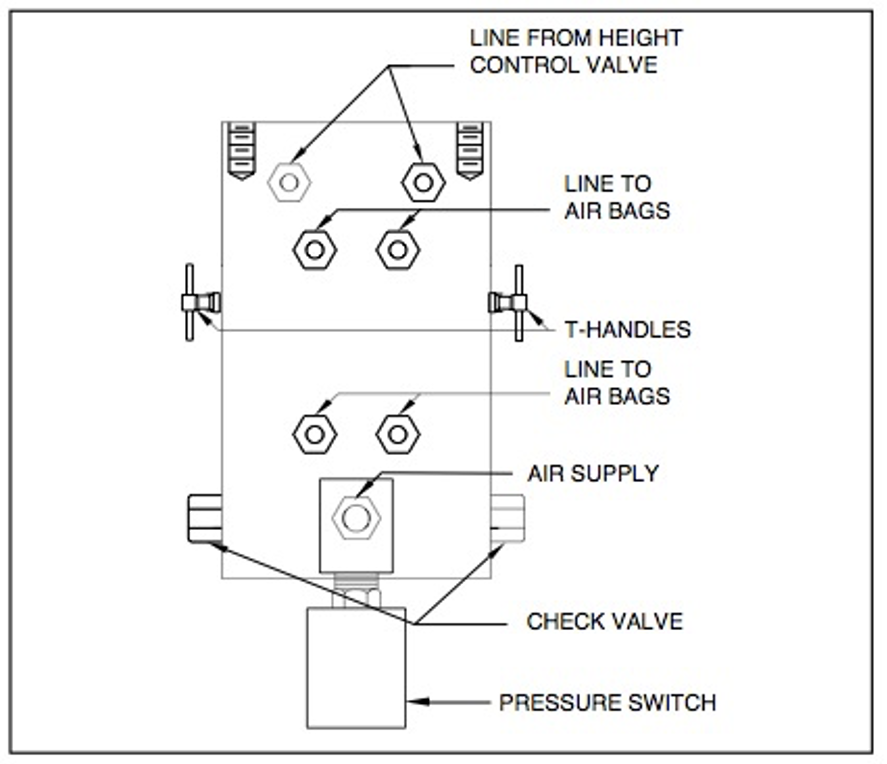 The manifold with two pressure switches monitors the air pressure in the airbags. The single pressure switch on a manifold monitors system air pressure.
The pressure switches are normally closed switches. When the air pressure is equal to or above the pressure switch setting, the switch will open. The pressure switches complete a ground circuit when closed.
Normally a system will have a manifold with two pressure switches on the front and a manifold with one pressure switch for the drive axle. If a vehicle has a tag axle and a manifold for the tag axle, usually that manifold will NOT have any pressure switches. There can be different arrangements. Some vehicles such as Country Coach may have manifolds with two pressure switches front and rear.
The pressure settings for the switches are different. The pressure switches that monitor airbag pressure are usually set at low pressure, normally 20 psi. Foretravel supplies the pressure switches for the front manifold and these switches are 10 psi switches. The airbag pressure switches for Newell are 35 psi switches.
Pressure switches used to monitor system air pressure are usually set at 85 psi, although some manifolds have a pressure switch set at 100 psi.
Pressure switches may be marked with their settings. If not, use the specific air manifold part number to get the correct pressure switch setting.
The air manifold pressure switches have two functions. They serve as low-pressure warning switches and the front pressure switches are used when performing lower functions with the touch panel.
When the switches are working as warning switches, if a pressure switch sees low air pressure, that switch will send a ground signal to the leveling system control box. This will turn a master warning light on if the vehicle ignition is on. The "TRAVEL" light on the touch panel will turn off.
The pressure switches on 500 Series Leveling System, such as Country Coach uses, are only used as warning switches. They serve no function during any leveling procedures. A pressure switch that sees low pressure will turn a red warning light, on the touch panel, on for that corner of the vehicle if the ignition is on. The travel light will turn off. It will also turn a master warning light on.
The front air pressure switches on all 600 and 680 Series Leveling Systems are used during any lower functions, manual operation, automatic operation or use of the "DUMP" button. When the pressure switch for a front bag turns on, it sends a ground signal to the control box. This will inhibit the opposite side front airbags from lowering.
EXAMPLE: While pushing the right side lower button, the right front air pressure switch sees low air pressure. The front lower button is then pushed. The right front lower solenoid valve will turn on and open, but the left front lower solenoid valve will not turn on. The left front bag will not lower. This is done to prevent the front of the vehicle from twisting. If one side of the front of the vehicle is as low as it can go, lowering the other side will twist the vehicle